Women in Intensive Care Medicine is a sub-committee of the FICMCRW Group. Our main areas of work include development of mentoring within ICM, supporting Return to Work processes, developing an Emerging Leadership programme and running a popular annual meeting.
Our aim is to generate a positive image of a career in ICM to potential applicants to intensive care medicine, from early careers advice and recruitment, to opportunities for Consultants and senior Faculty positions, with a particular emphasis on currently under-represented groups within ICM.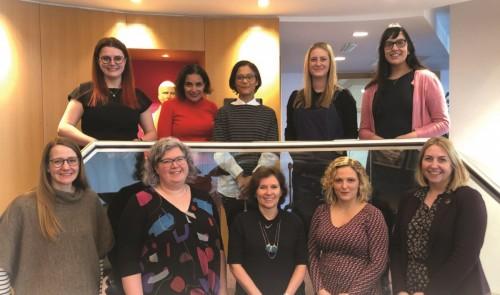 Pictured Top line left to right: Stephanie Cattlin, Ingi Elsayed, Rosie Baruah (former WICM Chair), Sarah Marsh (Dept Chair) and Nish Desai
Bottom line left to right: Christine Watson, Liz Thomas (Chair), Roisin Haslett, Hannah Potter and Danny Bryden (Vice-Dean, FICM).
Not pictured: Kate Flavin, Manni Waraich, Mishti Oberoi